ANNIKA VICTORIA, 20, SCIENCE STUDENT, AUSTRALIA
ANNIKA'S STYLE: I would describe my style as very malleable. It can teeter on gothic or grunge, or it can go the other way and be ultra girly, pink and frilly. I like to experiment with my outfits and I try to incorporate a lot of novelty and colour. I guess "vintage-y" would be another way to describe my style, but that definitely doesn't sum it up entirely either. As for a trademark item, I always wear something on my head. My signature piece is my boater hat!
INSPIRATION: Novelty and color  shopping in vintage stores and Japanese fashion magazines. Other bloggers are always a massive source of inspiration as well!
GREATEST ACCOMPLISHMENT:Going to university! I'm the first person in my family to go to university, so I'm most proud of myself for doing that, especially after I was diagnosed with a very rare and scary illness in late 2011 which almost stopped me from fulfilling that dream. I am not going to let anything stop me from becoming a scientist now!
WHAT ARE YOU DREAMING ABOUT? Right now? Eating a parfait. I'm just about to go out for dinner in Tokyo as I type this, and am having a fantasy about a particular 80s-style strawberry parfait with cake, cornflakes and cream… yum!! Best thing about this dream is that it's going to become a reality in about 1.5 hours.
PERFECT DATE OUTFIT:I have the best Valentine anyone could ask for, my boyfriend Luci. Our two-year anniversary is just two days after Valentines day, so this time of the year is pretty special for us. My perfect Valentines date outfit (which I will be endeavoring to wear on Valentines day in fact) is a pair of nude-tights with a stripe down the back matched with a red vintage-style dress with a poofy skirt, and a whole heap of accessories with hearts on them. If I had a heart-shaped bag, I'd be wearing that too, as well as some lace-up, ballerina style platform shoes.
WINTER FASHION: Being able to layer up with cool patterned stockings matched with cute socks and boots, and chunky scarves!
 ————————————————————————————————
like what you see? link up with annika victoria by checking out her site here:  
OLIVIA TAYLOR, SHUTEY, 20, STUDENT + SEVENTEEN MAGAZINE STYLE BLOGGER, USA
OLIVIA'S STYLE: I really need to improve on answering this question! My style is definitely quirky-chic with some occasional boho and rocker vibes. I apologize for that sounding ridiculous!
INSPIRATION: Hmm… the past inspires me the most. Past style icons like Brigitte Bardot, Stevie Nicks, Marilyn Monroe, Edie Sedgwick, Nancy Spungen.. vintage everything.
GREATEST ACCOMPLISHMENT: I consider my greatest personal accomplishment to be working up the courage to start my own blog. It was a very long process for me to be able to put myself completely out there
WHAT ARE YOU DREAMING ABOUT? Definitely dreaming about being at NYFW !!
PERFECT DATE OUTFIT: My perfect date outfit definitely includes black lace, I have a black lace open back dress lined up for my V-day date with my boyfriend. It's as traditional/ beautiful as red, without the cliché. 
WINTER FASHION: Layering! Also, big thick socks over tights and ankle boots. I love this combination.
 ————————————————————————————————
like what you see? link up with olivia by checking out her site here:  
JOY OELEN, ART STUDENT + BLOGGER, SWITZERLAND 
JOY'S STYLE: Mix of chic and edginess. I usually wear black and white and I love clothing with an interesting detail, like cut out shoulders, transparent, great print, or cool material. 
INSPIRATION: Definitely blogs! I love fashiontoast, Stockholmstreetstyle, Lookbook and loads more.  I also get inspired just by shopping, online stores like net-a-porter, mytheresa, Asos, Zara, H&M, or Designers I love: Alexander Wang, Balmin, McQueen, CHANEL just to name a few. 
PERSONAL ADVICE FOR PERSONAL STYLE: Uff that's hard! I think the best way is to find your favorite style icons, and just get inspired by his/her style. See what you like about the look, find out where you can get it. And don't be afraid to try out new things. That's probably the biggest problem.  
THE MOST TALENTED INDIVIDUAL IN FASHION: Anna della Russo: She"s just so fun! She wears the most amazing crazy things, is just such a happy and positive person. You just have to love her! I had to do an Interview with her once and she was just super sweet!
NEW YEAR'S RESOLUTION: Be a better blogger. I made a list with things I want to do better and goals I want to reach with my blog. Hope for the best!
WINTER FASHION: I just love the moments when you can wear a big fat oversized sweater, sit in front of the chimney and drink a hot chocolate. So the best thing about winter fashion are those warm cozy sweaters, which I never seem to own. 
 ————————————————————————————————
like what you see? link up with joy by checking out her site here:  
MICHELE K, 21, GRAPHIC DESIGNER + FASHION BLOGGER, SWITZERLAND
MICHELE'S STYLE: I would describe my style as very experimental. I love mixing pieces which nobody would wear together because they think this pieces just don't match each other. But that's what makes fashion interesting in my eyes. I always love to exaggerate with prints, colors and fabrics for example. Some people say one statement piece is enough, I say you can't wear enough of them! Sometimes I stand in front of my wardrobe and take out one piece of clothing which I want to wear. Then I scan the closet again and take out just the one piece which looks like it would not match the other piece at all. But once I'm wearing it, it turns out that the pieces are looking brilliant together. To sum up, I guess my trademarks are the prints which I'm combining all together very often. 
INSPIRATION: Inspiration is something I can find everywhere. In magazines, in the internet, in movies.. But I guess the most inspiration I find in people on the street. Some people may don't even know how stylish they are. Sometimes I'm standing somewhere waiting for the bus and then somebody passes by and I'm thinking "oh wow, great pants (or whatever)" and then my brain goes freelance and starts to complete an outfit with those just-seen pants. 
PERSONAL ADVICE FOR PERSONAL STYLE: I guess there's only one advise I can give, because I had to deal with it by myself. Don't care to much what other people think or say or how they look at you. In some countries or cities people are not very open minded and judge people about what they're wearing because it's not the mainstream stuff everybody wears there. In situations like this you have to stay strong and stay yourself and do one's own thing and maybe break some rules, otherwise it could happen that you look like all the other people around you.
THE MOST TALENTED INDIVIDUAL IN FASHION: For me, Alexander McQueen was the most inspiring designer ever. It's not only the clothes he designer, it's even the shows, the passion. Just everything! I can't describe my fascination for him!
NEW YEAR'S RESOLUTION:  guess taking more time for my blog and starting new interesting projects and partnerships. Some days ago I purchased a new camera which allows me to take even better picture in higher quality. So this gonna be a good year hopefully!
WINTER FASHION: [My favorite thing about winter fashion] is that I can wear so many things at one time. I love the layering looks which are in winter not only goodlooking but also warming. In summer I hate wearing tops which have sleeves, even if they are very short. So I don't have such a bright range of clothes to wear. And of course I love wearing boots!!
 ——————————————————————————————————-
like what you see? link up with michele by checking out her site here:  
DAJANA BARTOLIC, 24, OLD SOUL, CROATIA
DAJANA'S STYLE: I always say that rock 'n' roll is my biggest, but not only influence. It's my favorite type of music and it really inspires me. I also love classic looks and bohemian style and combining the three.  It is the reason why my blog is named Rock 'N' Roll Fairytale. I have a lot of clothes that is not a brand or is by some unknown name, I usually buy what I like, regardless of the brand, but it just happens that ZARA suits me aesthetically and I find it to be accessible, so it's a brand that I mostly wear. 
INSPIRATION: Along with rock that I already listed, a lot of things inspire me:
My state of mind - I usually wear something that reflects how I feel that day. I have days when I go to my mom's closet and combine her clothes from the 80's with something new, I was always attracted to the combination of opposites; new with old, sporty with elegant…  People - I draw a lot of inspiration from people. It's wonderful to see the diversity in cultures, personalities, creativity… 
Cities - I lived in New York City for 6 months and it really influenced my style. 
To name a few…
PERSONAL ADVICE FOR PERSONAL STYLE:  Be creative, don't be scared and don't care what other people think. Sometimes go over the top and don't be scared to experiment. Eventually, in all that madness, you will find your fashion nirvana! I believe that personal style is always evolving and changing. 
THE MOST TALENTED INDIVIDUAL IN FASHION: I love Olivia Palermo's style. I can relate to it. Sometimes she combines things that you wouldn't usually put together and I like that.
NEW YEAR'S RESOLUTION:  I don't really make New Year's revolutions.
WINTER FASHION: [I would have to say I love] layering and faux fur jackets. I need to make a trip to real winter at least once a year just so I had a reason to wear a faux fur jacket a scarf and gloves. 
 ——————————————————————————————————-
like what you see? link up with dajana by checking out her site here:  
KIARA SCHWARTZ, BLOGGER, TRAVELER, UNITED STATES
KIARA'S STYLE: I think my style a blend between classic chic and bohemian beach girl. It really depends on where I am, I am inspired by the scene around me, winter and the east coast brings out a little bit of a darker version of classic and the California sun highlights the beachy bohemian vibes in my closet.
INSPIRATION: Being somewhat of a world traveler I am inspired by places and seasons, the mood outside inspires my inspirations to being lighter and more girly vs darker and a bit more edgy. Inspiration is everything, so another point of inspiration  are all my wonderful friends and fellow bloggers that are all extremely talented in style and their own businesses as well. Magazines, Tumblr and Coffee Table books on interior design, fashion, Surfing and Snowboarding also always make for a good past time when looking for extra inspirations. 
PERSONAL ADVICE FOR PERSONAL STYLE: Start with the basics and work in your own extra touches that will begin defining your personal style. Don't be afraid to push your comfort zone a little bit, but stay true to who you are! 
THE MOST TALENTED INDIVIDUAL IN FASHION: Karl Lagerfeld. He might be the obvious choice but in this ever changing world of fashion he has been a step ahead for as long as I can remember. He has been a successful designer and director for so many years and continued success in this business truly marks the highest point on the fashion pedestal. Has any one noticed that while revolutionizing fashion season by season he has always stayed true and very committed to his ow personal style? Amazing.
NEW YEAR'S RESOLUTION: Take more time to spend with friends and family. Succeed, based on the level of happiness. Make shit happen! 
WINTER FASHION: I would have to say layering and faux fur jackets. I need to make a trip to real winter at least once a year just so I had a reason to wear a faux fur jacket a scarf and gloves. 
 ——————————————————————————————————-
like what you see? link up with kiara by checking out her site here:  
AIBINA YESHKEEVA, 18, STUDENT + BLOGGER, KAZAKHSTAN
AIBINA'S STYLE:  I don't keep a certain style, I like dressing differently, practical and comfortable. I like to combine clothes and make outfits. Since I am still a student, I dress in democratic clothing brands.
INSPIRATION:  I'm inspired by people from different parts of the world. They feel the spirit of freedom and democracy, self-expression of taste and style in clothes. Real people, inspired by fashion, which they invent themselves.
FASHION + STYLE: Fashion is an art to be actual and understandable, but the style is the personality and the soul.
THE MOST STYLISH CITY IN THE WORLD: For me the most fashionable city in the world is New York. I dream one day in my life to visit New York City and see a real fashion with my own eyes, not only from my favorite movies.
HOLIDAY WISH-LIST:  I dream of a professional camera. It is my great desire for a holiday.
WHAT ARE YOU THANKFUL FOR? I'm thankful to my mother and family.
FALL FAVORITES: We have a very short and cold autumn, so I like to wear warm sweaters, coats, jackets, caps and hats
NEW YEAR'S RESOLUTION: Engage in self-development and realize my dreams.
 ——————————————————————————————————-
like what you see? link up with aibina by checking out her site here:  
JYSLA KAY, 20, PHOTOGRAPHER, AUSTRAILA

JYSLA'S STYLE: Like most people, my style changes with my mood. It's probably best described as relaxed and casual with a touch of boho and grunge. My signature go-to pieces are my ankle boots and blazers!
INSPIRATION: Music is my biggest influence - I always have something on in the background when I'm choosing my outfit for the day. I dress for my mood, and the music helps to amplify that! And of course other bloggers also inspire me.
FASHION + STYLE: I think there's a HUGE difference between fashion and style. Style is a much more personal term and is completely unique to an individual. And Yves Saint Laurent said it best, "Fashion fades. Style is eternal."
THE MOST STYLISH CITY IN THE WORLD: I haven't traveled enough to be able to give a proper opinion, but every city is stylish and unique in their own way which is a part of the culture and beauty!
HOLIDAY WISH-LIST: I'm actually putting together a Christmas wishlist for my blog! That will be up in the next few days, but it includes a lot of cropped singlets and short shorts (because it's summer in Australia!).
WHAT ARE YOU THANKFUL FOR? I am thankful for my life, for being able to do what I love, for all the support readers have generously given without hesitation and for this feature. I am thankful for music, and laughter, tea, coffee, novels and stationery. Most of all, I am thankful for love and happiness.
FALL FAVORITES: Fall is the best for layering, and I always love wearing coats, beanies and knits. Nothing beats a knit dress with tights and ankle boots - my favorite!
NEW YEAR'S RESOLUTION: My new years resolution is to be happy - to love freely, to live simply and to continue doing what I love which means photographing more, reading more, blogging more and eating more ice-cream. But one baby step at a time, and simply being happy sounds like a reasonable place to start!
 ——————————————————————————————————-
like what you see? link up with jysla by checking out her sites here:  
MICHAELA SCALISI, 20, STUDENT, SWITZERLAND
MICHAELA'S STYLE: I think it's quite vintage inspired and very girly and playful. It's sort of hard to describe as I like a lot of different looks. Some typical things I love wearing include florals, hats, old bags, lace-up boots, lots of colors, lots of patterns and prints,dresses, tights and socks. I like wearing bright colors; they make me happy, though sometimes I dress down a bit if I'm just going to class or if I'm in a lazy mood :) 
INSPIRATION: There are many things that inspire me. I think you can find inspiration everywhere. I get a lot of inspiration from art by visiting exhibitions or also just in the city when you walk along the streets… I think the environment and the people are so inspirational. And of course relating to fashion and art I guess I'm very inspired by other bloggers. I love to visit pages like LOOKBOOK or Chictopia, they offer an immense variety of creative work!!
FASHION + STYLE: I think fashion is the main direction frame which gives indicates temporary general trends. And style is something personal. Every person interprets the trends in his/her own way. Everyone chooses the way how to wear the clothes and creates so an individual style.
THE MOST STYLISH CITY IN THE WORLD: London!!! I love the city and the attitude of the people there!!
HOLIDAY WISH-LIST:  On top of my list are a pair of warm and cosy nordic printed socks and a new lens for my camera! Santa do you hear me?
WHAT ARE YOU THANKFUL FOR? I'm very thankful to live in such a beautiful country as Switzerland surrounded by people that I love and that care about me!
FALL FAVORITES: Tights and socks!
 ——————————————————————————————————-
like what you see? link up with michaela by checking out her site here:  
SIRMA MARKOVA, 27, INTERIOR/EXTERIOR DESIGNER, BULGARIA
SIRMA'S STYLE: I must say that my style is casual and inspired with the street fashion. I usually weal practical and casual clothes. Very rare I wear high hells and elegant skirt or dress. I like them very much, but my lifestyle is like this so I can not allow  they  take a large part of my wardrobe. I like to add glamour touch by using jewelry,  recently  they are my favorite accessories, specially the big and shining necklaces.I have different period of my style so I can not say that I have one  pieces that I wear all the time and it is my trademark.
INSPIRATION: The colors, the shapes and the fragrances. I like to walk around the shops and in my mind to make combinations of different clothes and to create full outfits.
A real inspiration for me are the photos-sometimes it can be some futuristic architecture, other time some underwater picture from the sea or some interesting detail. 
Maybe this is the reason why I write texts in my blog very rare. I usually use the picture when I want to explain and prefer to show some nice
color palette

 and set
,
probably because I graduated at the Art Academy.
FASHION + STYLE: This is really serious question. For me will be the best if you are modern with style, it means to know the new trend, but also to know how to make them to work together-fashion and style, to choose the best and to combined it in such way so it can make your personality unique.
THE MOST STYLISH CITY IN THE WORLD: Paris is always good idea-ha-ha, but because I never was there, I can not say it for sure. For me one of the most beautiful and stylish city is Budapest. The atmosphere there is fantastic, the Danube river in the middle of the city, the old subway station, the beautiful streets with the streetlights and pots with flowers- they all make incredible landscape.
HOLIDAY WISH-LIST:  On my  wish-list there is already some skirts with feeders. I think that they are really extravagant, but in this period of the year I can wear them whiteout looking eccentric or strange.
FALL FAVORITES: This year I discover again the faux fur sleeveless jacket . This is one of my clothes that I really wear a lot, because it is very practical and fashion. It was part of most of my daily outfits. One other favorite pieces for this season is one shirt in military style with shining stones on the pocket. Really very cool and trendy. In top 3 of my favorite for the Fall is one shiny jeweled necklace. It make the outfit chic.
 ——————————————————————————————————-
like what you see? link up with sirma by checking out her site here:  
GABRIELA ATANASOV, 21, PUBLIC RELATIONS STUDENT, ROMANIA
GABRIELA'S STYLE: My style is all about "less is more" and is influenced a lot by my fashion icon Audrey Hepburn and the 50's. I like fine cuts, structural looks that put in light the architecture of a woman's body, besides that I adore vintage clothes and accessories because they have a story to tell, they are unique and priceless for me. Anyway I like to think about myself as a versatile person so I like to mix vintage pieces with modern cuts, new clothes, accessories. . I don't think I have a  signature trademark or pieces I always wear but I have to admit that I have a lot of pencil skirts and 50's dresses in my dressing and I can't stop from buying vintage earrings and clips because they define my outfits.
INSPIRATION: The Past inspires me…i always said that you can't have a future if you don't know your past besides that I believe that nowadays all we do  in fashion is reinventing the past in order to have something new! 
On the other hand, Audrey Hepburn is for me the most beautiful woman ever, all about her inspires me, that's why I saw my first collection as a tribute i brought to her. I just wanted to see more grace & class  on the streets, more feminine looks, so I decided that I should be the change. !!! I like to seek for inspiration everywhere, starting from a song, a vintage video, a country , a city and ending with a leaf that just fell from a tree. Also I love to study people they are a great source of inspiration too. It is very important for me to have a challenge in fashion, for me it is like a game…you have to play it otherwise there's no chance to win it….
FASHION + STYLE: Fashion is general…style is personal there is a big difference for me… Fashion offers you millions of choices, it has a lot of garments & colours to offer it is your style that has to do the decisions, not the money. I'll never agree with somebody who blames money for not having style…this is something that you have to feel, it is like love …you can't buy it!!! Also for me style means attitude, you achieve and develop it in time. It has to become unique and individual it is like your DNA. 
THE MOST STYLISH CITY IN THE WORLD: "I believe that Paris is the place where i should have been born." This is one of the things you'll find in "my definition" on my blog. Yes Paris is for me the most stylish city in the world especially during the Fashion Week…that is the moment when you can literally see an  explosion of beauty and art on the streets. For me Paris is the place where fashion was born.
HOLIDAY WISH-LIST:  My wish-list has changed a lot this year because now I can create anything I want in my own atelier, so first of all I would like to buy new fabrics to start creating my next collection. Besides that i just NEED the new Chanel Noir fragrance, it is on the top of the list right now and also I have a crush right now on a GOLDEN turban that i saw in a vintage boutique here in Bucharest and i am going to do all my best to have it!
FALL FAVORITES: I love wearing hats, turbans, leather, metal …and a lot of burgundy during Fall.
 ——————————————————————————————————-
like what you see? link up with gabriela by checking out her sites here:  
http://sweetaspaprika.blogspot.com;http://chic-vintage-boutique.blogspot.com
PAULA ILONA VIKTORIA, 18, STUDENT + FREELANCE JOURNALIST, FINLAND
PAULA'S STYLE: It's kinda hard to describe it by myself - somehow it's weird mixture of punk, grunge, rock and girly styles. Different materials are more important for me than colors. That's why I enjoy wearing black the most, even though lately I have used much more hues than normally. Black tights are the thing which of I trust - I rarely forgo them, even if there would be damn cold outside. I also love accessory - big amount of jewelry, like rings and bracelets, are my trademark.
INSPIRATION: Music, movies, 90's, Lookbook. fashion catalogues, fashion magazines, blogs and cool people with great attitude.
FAVORITE PIECE OF CLOTHING: As I said before, I love black tights - they go with everything. I also adore any kind of special, cool looking shoes. Currently I'm dying over UNIF Hellseekers and Hellbounds, they are one of my biggest clothing dreams. From my own wardrobe I like my creepers, leather jackets and Black Sanctuary tee's the most.
PERSONAL STYLE EVOLUTION:  It has evolved A LOT. I have tried totally different styles when I was younger and I can say that they haven't been so brilliant… I have had my seasons as gothic lolita and wearing only big guys' tee with leggings, but luckily it's already far behind  (I just revealed the most horrific parts of my style history, oopsie). Year ago I also weared much more sheer, layers and necklaces. My current iterests influence me the most - for example when I'm feeling super enthuastic about Nirvana, I wear grunge-like outfits and when I hype the newest catalogues of Anna Sui, Gareth Pugh or Ann Demeulemeester, I get inspired of them.
HALLOWEEN: This year I didn't dress for Halloween. I think I would have been something like "modern death", with lot of black capes and layers. Big hood would have been "the must have" -thing. I really don't like dressing for holidays.
FALL FAVORITES: Big warm sweaters, garments with leather and fur details, lots of layers and different materials. I also have fell in love with burgundy and violet during this fall.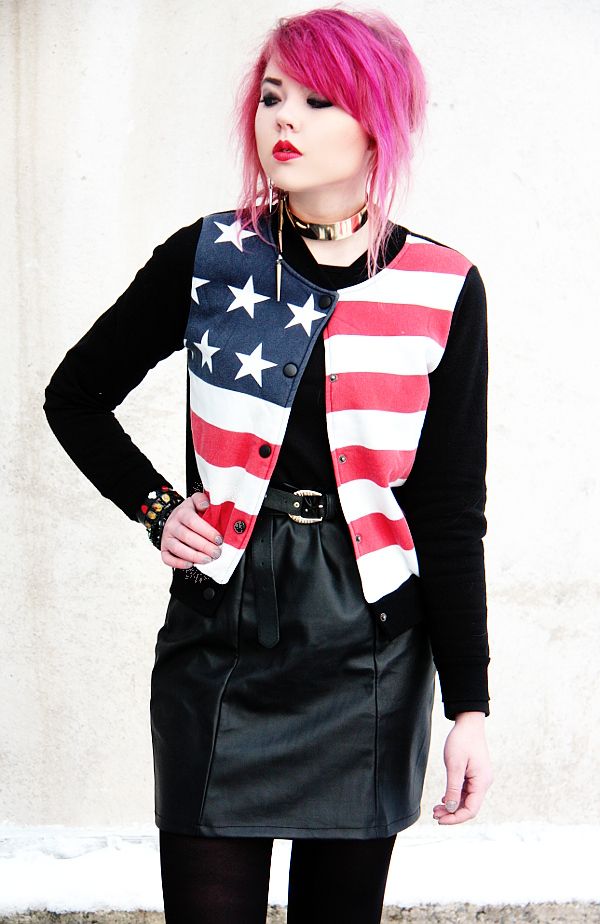 ——————————————————————————————————-
like what you see? link up with paula by checking out her sites here:  
KRISTAL ANDERSON, THIRD GENERATION GYPSY, AUSTRALIA 
KRISTAL'S STYLE: I can best describe my style as bright, fun and eclectic. It's hard to really define my style because I'm always inspired to try something new. My signature pieces at the moment are my oia & jules gold chain necklace. There is always that one necklace I wear to death and at the moment that's my favourite.  Another signature piece is my trusty Michael Kors watch which rarely leaves my wrist.
INSPIRATION:  I draw a lot of inspiration from fabrics and vintage pieces, as strange as that may sound to some. My interest in fashion sparked in high school when the only clothes I could afford with my after school job was pieces I thrifted from the op shop or cheap fabrics at the wholesale warehouse.  I would then take either the fabric or thrifted piece of clothing imagining what it could be and then make it on my mother's old sewing machine. Barely anything I wore back in high school was store brought and I felt I expressed myself best through what I wore.
FAVORITE ARTICLE OF CLOTHING: Shoes! I am such a closet case Carrie Bradshaw and my obsession for shoes is insatiable. Currently my favourite shoes at the moment are my black mango pumps and a pair of Prada translucent heels I am yet to wear.  Those who know how much I have spent on shoes have been slightly horrified, but I believe shoes are an investment pieces that you can transition season to season. 
PERSONAL STYLE EVOLUTION: My style is always evolving and I don't think it will ever stop in one place. My mind wanders off every time I see something inspiring and I'm already dressing a new outfit in my head.  Currently I am majorly musing off Natalie Joos and her incredible style aesthetic. I love how she mixes looks to create something utterly unique and her.
HALLOWEEN: To be honest I have never dressed up for Halloween! It's not that big in Australia and growing up in a Christian school none of my friends were allowed to celebrate it so the whole trick or treat concept is a little lost on me sadly.
FALL FAVORITES: Thrifted oversized wool jumpers and ankle boots. I'm transitioning in Spring and Summer now here but I am already desperately missing wearing my large collection of ankle boots and winter woollies. 
——————————————————————————————————-
like what you see? link up with kristal by checking out her site here: