PLEASE INTRODUCE YOURSELF!
I am Taliah Ferguson, fashion blogger at fashionwashere.net. I like the real aspect of fashion and not so much the overtly avant-garde. Maybe once in a blue. 
HOW DO YOU CELEBRATE PERSONAL STYLE? 
I celebrate personal style by my mood. It's that simple. I think if you really look at my style pattern, you will see a medley of everything. From edgy to retro to girly, I can be all over the place but I would say maintaining a feminine air about your personal style really shows your je ne sais quoi. 
WHAT WAS YOUR REASONING BEHIND STARTING A BLOG? 
To finally show my friends that I can help them with styling their wardrobes…Haha! No but really, to finally release that deep affinity I had for fashion and the editorial world. My ultimate goal was to eventually monetize it and provide inspiration.
WHAT IS THE SOCIAL MEDIA TOOL THAT YOU FIND MOST EFFECTIVE IN PROMOTING YOUR BLOG AND HOW DO YOU USE IT?
It's a mix between Instagram and Pinterest. Unfortunately, I don't use them enough. Chictopia is great too, but for possibly earning revenue and more blog hits, IG and Pinterest is where it's at. I try to flood Instagram in a short span of a day or two and then take a break to have a good balance. 
WHAT IS ONE QUESTION YOU WISH PEOPLE ASKED YOU MORE OFTEN? What else do I love besides fashion? I appreciate when people notice my love for fashion and style, but at  the end of the day I have other interests. I would love for people to ask me about the art of loving and not judging others. Promoting healthy relationships and most of all my stand on women being equal and having important roles in this world. 
TALK US TO ABOUT YOUR LEADERSHIP - HOW HAS PURSUING YOUR PASSION FOR FASHION INSPIRED HOW YOU LEAD?
I believe there are different forms of leadership. Some leaders move in silence and some are more vocal. With my blog, I have a platform to share my voice (I can be an introvert sometimes) and talk about how to be yourself through fashion. I tend to lead people in the direction of being an all around, multi-faceted person. So trying your hand at fun recipes or creating a DIY storage for your jewelry. Its all about leading by example or sometimes just sharing stories and trends from the heart. It comes across as authentic and therefore people see confidence. I don't think you can be a leader and lack confidence.
—————————————————————————————
like what you see? link up with talia by checking out her site:
PLEASE INTRODUCE YOURSELF + STYLE: Hi guys, I'm Marcel Floruss, born and raised in Germany for 20 years and then made the big move to NYC, the greatest city on earth (I'd say, and I've seen a few), to study fashion. My blog is all about passion and sharing it, which for me ranges from fashion, photography and modeling to traveling, food and dancing, which I actually did professionally for a while!
If anything, I'd say my style is very diverse. I'll wear anything from a classy suit with a shirt, tie and oxfords, to a tank, jeans and sneakers. And most often, it's actually a mix of the two. Hence the blog name "One Dapper Street" - "dapper" and "street".
INSPIRATION: Everything and anything. I walk down the street and get ideas from people and store fronts; I'll look at a painting and be inspired by the colors; even just the obvious things like weather and occasion inspire my outfits and make me come up with new ideas of how to dress appropriately.
WHAT DECADE OF FASHION DO YOU IDENTIFY WITH THE MOST?
Ha, I'll have to say the one we're in right now, as it reflects many of the decades in the past, from dapper three-piece suit options in style of the 20s to the "Canadian Suit" in the 90s, which very much reflects my style.
WHAT ROLE DO YOU THINK FASHION PLAYS IN HISTORY?
I mean, I go to school for fashion and they obviously educate us about the importance of history in fashion… Every season, designers come out with new adaptions of what has already been; everybody's inspired by the past, but adds their personal touch to it. This is not to say that designers don't create anything new at all, but the majority definitely always has recurring elements of style.
DOES HISTORY HAVE ANY DIRECT IMPACT ON YOUR PERSONAL STYLE?
Absolutely. Often I find myself inspired by the origins of suiting and interpret them my way, or taking a rockabilly look and modernizing it, just to name a couple…
WHAT IS ONE QUESTION YOU WISH PEOPLE AKSED YOU MORE OFTEN?
"What's your worldview?" I love talking to people on a deeper level, about the meaning of life, and how it impacts their everyday lives. I think I need it because fashion sometimes gets too superficial, so it's a nice conversation to have to create balance.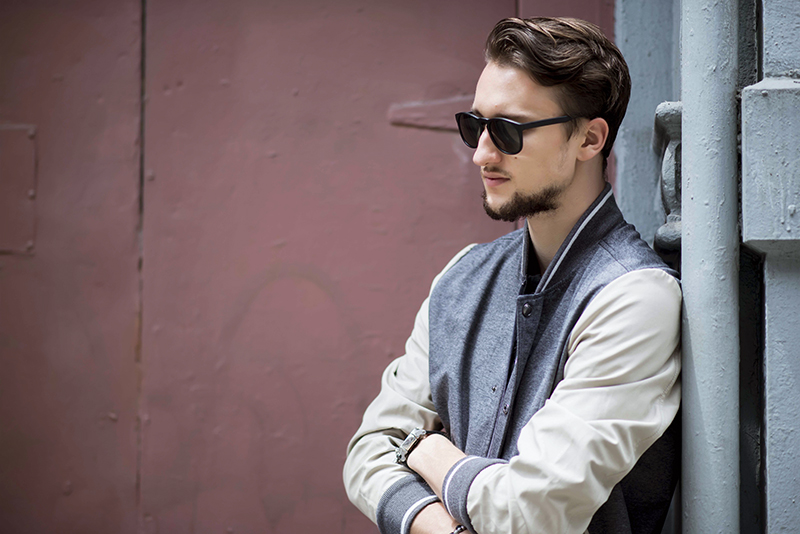 ————————————————————————————————
like what you see? link up with marcel by checking out his site:
WHO ARE YOU AND HOW WOULD YOU DESCRIBE YOUR STYLE? Hi I'm Jessica. Age is just a number and I have stopped counting after my 3rd 21 birthday! My hometown is Tianjin, China, but NYC is where you'll find me. Prior to becoming a Fashion Blogger, I was working for Investment banks. I consider my style as a representation of who I am. I am not a one-dimensional person, so my style follows suit. Sometimes I show my darker side in rock n' roll inspired outfits, and sometimes I embrace my feminine side in skirts and soft dresses. 
INSPIRATION: I am inspired by the different textures, colors, silhouettes, and prints in fashion. I love mixing and matching all these elements to create unique looks. 
WHAT DECADE OF FASHION DO YOU IDENTIFY WITH THE MOST, WHEN IT COMES TO STYLE AND TRENDS? When it comes to trends, I identify the most with 90s. I like to dress boho with a bit of a street, and 90s fashion embodies that. It is a mishmash of genres. Minimalist, grunge, a bit of boho, some athletic-inspired wear, and a lot of nostalgia. 
WHAT ROLE DO YOU THINK FASHION PLAYS IN FASHION? History plays a huge role in fashion. Fashion trends are most often reinventions of trends from the past. Overalls, baggy slogan Tees and crop tops from the 90s are the biggest trend right now. Wide-leg pants from the 70s are now re-imagined with more tailoring and more fluid fabrics. The examples are endless!
DOES HISTORY HAVE ANY DIRECT IMPACT ON YOUR STYLE? Yes. My own personal history and all the events happening around me define my style. All my garments have some meaning to me. Maybe I wore it during a trip that I loved, or maybe it's an outfit inspired by the fearless and unapologetic style of Spice Girls. Whether it is personal or derived from fashion references from the past, each piece has a history.
WHAT IS ONE QUESTION YOU WISH PEOPLE ASKED YOU MORE OFTEN? Aside from my passion for styling, I am a self-confessed foodie. I love trying out new restaurants, and uncovering hidden gems. If you ever visit NYC and need restaurant recommendations, just ask!
————————————————————————————————
like what you see? link up with jessica by checking out her site here: