"I would say I'm a creative person. I enjoy anything visually pleasing, which sounds pretty general but I would rather lose any of my other senses than eyesight (I've thought about this many times!) More than anything I like wearing things that have a story."
Relive our moments and conversation at the Union Square Greenmarket with digital girl and fine artist Samantha Andriano.
Last summer I had the pleasure of meeting and mentoring budding personal style blogger, Jamie Grimstad. Since, Jamie has launched her blog Little J, which has already created some big buzz. There's something to be said for Jamie's incredible ambition and well-curated focus on fashion and fitness. So today she's sharing her story and thoughts on confidence in style and how it pertains to identity as a young adult:
—-

On a daily basis, young girls (and grown women) are constantly under society's pressure to look thin, to look glamorous, and to always be their best selves – a pressure that is partially stemmed from the hype around social media in today's day and age. I can't even remember a time when I have been with a group of friends and a comment about how he/she looks has not come up in our conversation. But why are we all so focused on appearances and how others view us? While I have struggled to find the answer to this question myself, I have discovered that it all goes back to self-confidence.
Like many girls my age, I have (and still do) struggled to maintain a high confidence level in my ability, my looks, and in athletics (most specifically running). I oftentimes find myself worried about receiving judgment from my friends, being humiliated, or even being disappointed in myself for not living up to society's so called "standards." 
During my pre-teen years I really struggled to fit into my hometown community of Nashville, Tennessee – I wasn't a hardcore athlete (which my school praised) and I didn't follow along with the norms of other girls. Rather, I had other interests – in art, in culture, and in design, in dance, in fashion, and in traveling abroad. I felt like an outsider in silly situations, and it really took a toll on how I viewed myself as a person.  
About four years ago, my family spontaneously up-rooted all of our entire lives to move to Manhattan. A city that I had always dreamed of living in, but never believed that it would become a reality. 
Now living in NYC, which we all know is a mecca of female powerhouses; my exposure to women who have the gumption to not only dress, but also carry themselves with confidence is on every corner. I attend school with girls who have high hopes and dreams of becoming the next leaders of the world, the next editors of major publications, and the next diplomats. Furthermore, I live in a city with limitless opportunities, not to mention, a city that is filled with some of the most interesting people in the world. Living in NYC, I have truly been able to figure out what kind of person I want to become – and be okay with it, for that matter. Through both fashion and blogging, I have been able to express myself completely without hesitation, which is part of the reason why I love it so much. Running a blog has allowed me to start conversations with thousands of readers over the Internet and inspire young girls like myself to not only pursue their passions, but also be confident in everything they do. 
I may still receive judgment from some of my peers for what I chose to do (or what I don't) – but at this point, I do not care. I have come to a point in my life where I now realize that I do not need to "fit in" to whatever the societal norm is. I have learned that if you have confidence and good self-image, you simultaneously develop fearlessness inside of you… A fearlessness to be yourself in any given situation. 
The most important thing that I have to remind myself is to be confident in my ability in any arena of life that I step into. Not to mention, radiating that confidence onto the people that surround me. In doing so, I realize that I become the trailblazer, the role model, and the influencer that others admire. 
I re-tell this story everywhere but only because it has had a huge impact on how I carry myself on a daily basis. A little something something that I learned from the best, "Big Jamie" (my grandmother)  is the following quote, which she used to always tell me as a young girl: "Confidence – it's like perfume; for, people can smell it off you."  
I have come to learn that being confident is simply about being comfortable and unique to your lifestyle. It's about how you live, and how you carry yourself in any given situation, and in fashion, it's never about the piece, however it's about your presentation.
Photo courtesy of India and Jamie Grimstad
Meet Jessica Wu who shares her personal journey through her professional endeavors as an emerging wardrobe stylist… 

Desk Diaries: The Style Line meets Pittsburgh
If you've been following us on social, you'll see that I traveled to Pittsburgh, PA this weekend to host our one-year milestone event with our fantastic Pittsburgh-based contributor, Christina. The weekend was spent in great company in an even greater community. I finally had a chance to meet Emily Slagel of  Mid-Atlantic Mercantile and was introduced to The Livermore, who kindly provided tasty drinks and treatsand the Kicky Feet Vintage sisters who showcased their curated collection of restored vintage pieces. It was an intimate gathering, but I relished the opportunity to connect offline.
Reflecting on this weekend and the past year in general, there are many things I have come to learn about my profession and myself since taking on the responsibilities of running the site full-time. One of the biggest being the realization that the stories worth sharing are those that are made up of authentic experiences. This weekend was one in itself. I've come to realize is that living the experience will best be able to inspire how you share it.
I feel so incredibly fortunate to have had an authentic Pittsburgh experience and celebrate new beginnings with new friends, this weekend. A huge thank you to everyone who contributed to making this day so special… And stylish!
To new cities. To new stories. To new style. To a new chapter.
Stay tuned.
All Aboard…
- RACHEL SCHWARTZMANN
—-
Desk Diaries: Your environment effects your efficiency. 
"10 ways to really start taking care of yourself."
"5 methods to better organize your work/life balance."
"3 ways to guarantee a boost productivity for everyone."
Headlines like the above overwhelm me. I don't know about you, but I often find myself filtering through many how-to articles, resources and the like. Sifting through list-after-list not only distracts me, but it also creates an unnervingly present sense of self-doubt. Are my priorities in the right place? Am I organizing my days correctly? Did I remember to breathe? Should I SoulCycle?  How much am I actually getting done?
As I approach the one year benchmark of taking on The Style Line full time, I know I can only address things like this to a certain extent. But whether it's 1 year or 10 years, when you make the shift from turning your passion into a reality, you learn a lot along the way.
For starters, I've recently been getting asked a lot about my day-to-day and what it's like running a website basically on my own and at times in my own home. If I can impart any wisdom to future entrepreneurs, is that being in an appropriate environment is essential for growth. At this point in my career, I am still in the extremely-young startup mode, which means that for a while I'll remain a traveling office. (Coffee-shops are my friend.)
In my case, at this point it's definitely nice to have the flexibility over your work-environment, but maintaining a sense of structure can be a bit tricky. If you can manage to establish organization in a live/work situation that proves to hold equal value - I personally find it nice to return to some sense of consistency, even if it's at home. So yes, my desk is my happy place.
Here are some insights on how to improve your live/work environment that may (or may not, but hopefully do!) improve your productivity: 
—-
- Create an aesthetic that inspires: The Style Line was born with style in mind, so naturally aesthetics have always been something I've been drawn to. But eye-candy aside, having a space that provides constant inspiration will help maintain a sense of motivation.
Whether that means creating mood-boards, hanging up inspiring photos or quotes from people you admire, or something as simple as having a fresh bouquet of flowers on your desk… This can all make such a huge difference. I've noticed that lighting holds a influence on my mood and overall ability to concentrate. This is pretty specific to the person, but it doesn't get much better having a ton of natural light pouring through your window!
- Pen + Paper + (i)Pad: As someone in online media, I constantly go back and forth between what mediums I should use for note-taking, calendar upkeep, and brainstorming. I force myself to keep track of meetings and appointments using both my phone and a tangible agenda notebook. It provides a nice duality - My phone is a much more accessible tool in case I misplace or forget to bring my day-planner, and the agenda itself also provides room to quickly jot down notes or ideas… Plus it's a great excuse (and arguably a necessity) to not focus my attention on a screen…
- Size matters: While it's nice to have so many tools and things at your disposal, when it comes to staying organized, I've really learned that sometimes less is more. Having too much on your desk can cause distraction, misplaced items/docs and a whole lot of stress! Learn to limit what you need and have things that will enhance your creativity and ability to perform…
—-
Simply put: If you're happy in your home, then you've got more of an incentive to work to maintain those good vibes… Am I right? Now it's your turn to talk:
Where do you work/what do you do and what's the work environment like for you?
PLEASE INTRODUCE YOURSELF + STYLE: Hi guys, I'm Marcel Floruss, born and raised in Germany for 20 years and then made the big move to NYC, the greatest city on earth (I'd say, and I've seen a few), to study fashion. My blog is all about passion and sharing it, which for me ranges from fashion, photography and modeling to traveling, food and dancing, which I actually did professionally for a while!
If anything, I'd say my style is very diverse. I'll wear anything from a classy suit with a shirt, tie and oxfords, to a tank, jeans and sneakers. And most often, it's actually a mix of the two. Hence the blog name "One Dapper Street" - "dapper" and "street".
INSPIRATION: Everything and anything. I walk down the street and get ideas from people and store fronts; I'll look at a painting and be inspired by the colors; even just the obvious things like weather and occasion inspire my outfits and make me come up with new ideas of how to dress appropriately.
WHAT DECADE OF FASHION DO YOU IDENTIFY WITH THE MOST?
Ha, I'll have to say the one we're in right now, as it reflects many of the decades in the past, from dapper three-piece suit options in style of the 20s to the "Canadian Suit" in the 90s, which very much reflects my style.
WHAT ROLE DO YOU THINK FASHION PLAYS IN HISTORY?
I mean, I go to school for fashion and they obviously educate us about the importance of history in fashion… Every season, designers come out with new adaptions of what has already been; everybody's inspired by the past, but adds their personal touch to it. This is not to say that designers don't create anything new at all, but the majority definitely always has recurring elements of style.
DOES HISTORY HAVE ANY DIRECT IMPACT ON YOUR PERSONAL STYLE?
Absolutely. Often I find myself inspired by the origins of suiting and interpret them my way, or taking a rockabilly look and modernizing it, just to name a couple…
WHAT IS ONE QUESTION YOU WISH PEOPLE AKSED YOU MORE OFTEN?
"What's your worldview?" I love talking to people on a deeper level, about the meaning of life, and how it impacts their everyday lives. I think I need it because fashion sometimes gets too superficial, so it's a nice conversation to have to create balance.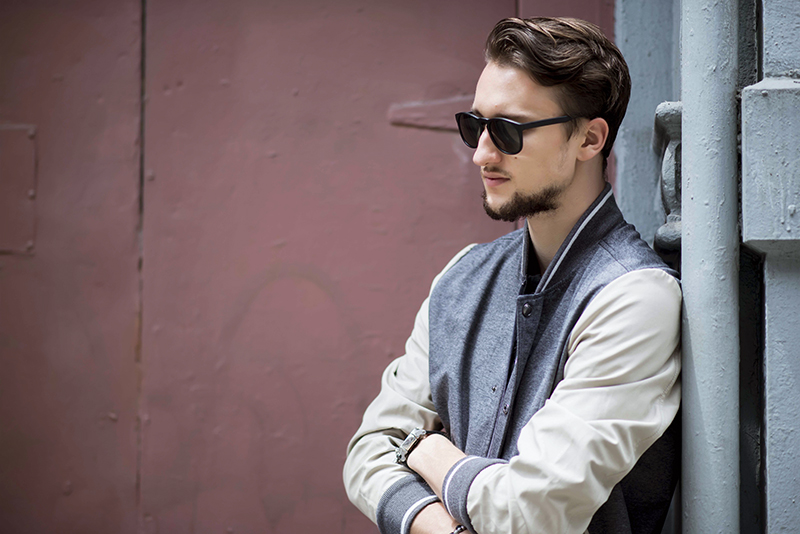 ————————————————————————————————
like what you see? link up with marcel by checking out his site: